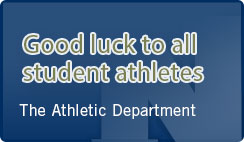 More Events

V/JV/FR Girls Basketball @ Windsor

12/13/2022
6:45/5:15/3:45 pm
Away - Windsor HS Gym


V/JV/FR Girls Basketball @ Middletown

12/20/2022
6:45/5:15/3:45 pm
Away - Middletown HS Main Gym


V/JV/FR Girls Basketball vs New Britain

12/22/2022
6:45/5:15/3:45 pm
Home - Newington HS Gym


V Girls Basketball vs Hamden

12/28/2022
1:00 pm
Away - West Haven HS Gym


V/JV Girls Basketball @ Bloomfield

1/2/2023
6:00/4:30pm
Away - Bloomfield HS Main Gym


V/JV/FR Girls Basketball vs E.O. Smith

1/4/2023
6:45/5:15/3:45 pm
Home - Newington HS Gym

Girls Basketball
***Any student athlete who has tested positive for COVID-19 within 3 months must complete the Return to Play protocols. If you have already completed the RTP protocols with the NHS Trainer, you have met the requirements. Click HERE for details.***
Varsity sports contests will be live streamed on the Newington High School YouTube Page, when available.
Visit and subscribe at http://youtube.com/newingtonhighschool605 for all of your Nor'easters Sports Coverage!
Girls Basketball Remind
Team information/updates will be communicated through the Remind App
Text #: 81010
Text message: @kgkc2b
Be On Time, Be Coachable, Show Effort, Positive Attitude, Commitment/ Buy-In = CULTURE
Winning Habits, Winning Attitude, Winning Behaviors
PRESEASON INFORMATIONAL MEETING
Any student-athlete who is interested in trying out for NHS Girls Basketball team should attend the meeting.
Wednesday, October 26th: 2:30pm-3:00pm (Room TBA)






2018-2019 Season Highlights (Videos)